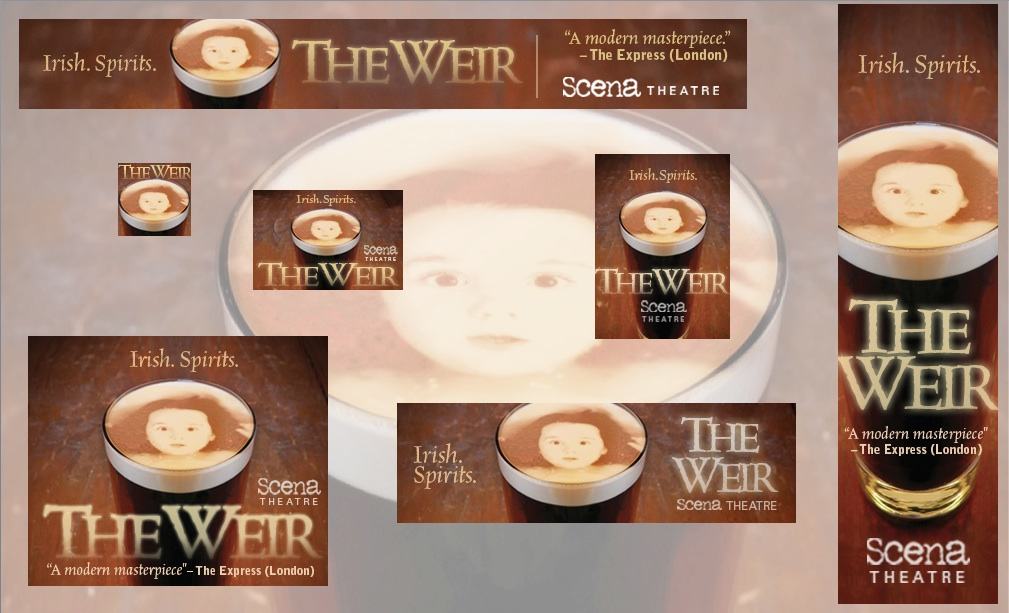 © Dean Creative, Los Angeles entertainment web marketing
Los Angeles entertainment web marketing
OBJECTIVE:  Create a digital marketing campaign for Scena Theatre by buying banner ad space on dozens of theatre-related websites. Grab attention in the competitive arts market of Washington, DC; communicate the plot of the play and generate intrigue; sell a lot of tickets.
SOLUTION:  We developed a huge campaign of striking, even haunting web banners, a few of which were animated with motion graphics. We ensured that all digital marketing mirrored the print campaign (poster, postcard, business card, and program). We bought paid web advertising on Washington City Paper, Washington Blade, DC Theatre Scene, Theatre Mania, Facebook, Washingtonian, and more.
EXECUTION:  The Weir by acclaimed Irish playwright Conor McPherson is about Dubliners telling Irish ghost stories while drinking in a country pub. We succinctly captured the soul of this play in a dramatic and memorable way. One particular story in the play entails the events surrounding the drowning of a young girl. So, we retouched a little girl's  image and made it ghost-like in the foam of a pint of Guinness.
RESULTS:  Ticket sales were tremendous for this production with many sell-outs. The Weir became the third-largest grossing play for Scena Theatre behind The Importance of Being Earnest in 2010. Earnest was also promoted by Dean Creative, a Los Angeles entertainment web marketing agency. We achieved these strong results despite the fact that a rival theatre also produced The Weir six weeks prior to our opening night.
copywriting
design
html email
Illustration
WEBSITES